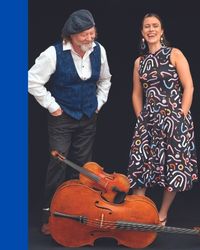 Alasdair Fraser & Natalie Haas
When
Occurs on Friday May 5 2023
Approximate running time: 1 hour and 30 minutes
Venue
SHOWROOM
20 Commercial St
Keene NH 03431
Event Notes
×
TICKETS:$39 Reserved Seating
" … you would think they'd been playing together for centuries. While his fiddle dances, her cello throbs darkly or plucks puckishly. Then [Haas] opens her cello's throat, joining Fraser in soaring sustains, windswept refrains, and sudden, jazzy explosions. Their sound is as urbane as a Manhattan midnight and as wild as a Clackmannan winter." — The Boston Globe

"As many gigs as they must have played together over the past decade or so, there remains a striking spontaneity about Fraser and Haas's music-making. He has tonal variation and attack to spare, but what makes them so consistently absorbing is the responsiveness each shows to the other. Haas is more than a cellist: she's the rhythm section who uses the percussive chip'n'chop of her bowing and the double bass-like pulse of her pizzicato playing to great effect. The accompanist's role moves so fluently between them, building tension all the while, and then they'll slip into unison and it's like floodgates opening. " — The Herald

The musical partnership between consummate performer Alasdair Fraser, "the Michael Jordan of Scottish fiddling," and brilliant Californian cellist, Natalie Haas, spans the full spectrum between intimate chamber music and ecstatic dance energy. Over the last 16 years of creating a buzz at festivals and concert halls across the world, they have truly set the standard for fiddle and cello in traditional music. They continue to thrill audiences internationally with their virtuosic playing, their near-telepathic understanding, and the joyful spontaneity and sheer physical presence of their music.
**For the safety of our patrons, artists, venue staff, and our community as a whole, we will be recommending masks to be worn at all times while at the venue, regardless of your vaccination status unless you are actively eating or drinking.