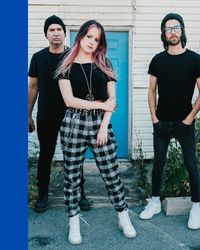 Sweet Lizzy Project
When
Occurs on Saturday October 29 2022
Approximate running time: 1 hour and 45 minutes
Venue
SHOWROOM
20 Commercial St
Keene NH 03431
Event Notes
×
TICKET PRICES:
$20 Reserved Seating ($22 Day of Show)/$15 General Admission ($18 Day of Show)
"Cuban-musicians with miraculously good flavorful "best of both worlds" progressive-rock guitar layered into Americana-type melodies. -Americana Highway

"Sweet Lizzy Project sounds more like raucous American indie rock than the uninitiated might expect… SLP positively rocks." -Pollstar

In just a few years, Cuban-born, Nashville-based quintet Sweet Lizzy Project has gone from its members never having been in an arena, to mesmerizing an audience of 20,000 people opening for their idols, Heart, and Joan Jett. Along the way, the anthemic rock band earned a prime performance broadcast for PBS's Havana Time Machine; an artist profile on NPR's "Weekend Edition"; and a cover story in the Miami Herald.

SLP defected to the U.S. from Cuba in late 2017, just as the border doors were set to close once again. Prior to relocating to Music City, SLP became the "it band" around Havana City clubs. SLP also won several music prizes, including two nominations for Cuba's closest equivalent of a Grammy. However, everything changed for the band when they were spotlighted on Havana Time Machine which also featured traditional Cuban artists and iconic American roots-rockers The Mavericks. During the making of the documentary, The Mavericks' founder and lead singer, Raul Malo, became inspired by Sweet Lizzy's music and story.

Sweet Lizzy Project plays electrifying big-stage pop-rock with a modern sheen and classic rock heart. Diaz is a lightning bolt of a frontwoman; her lyrics are boldly vulnerable, and her vocals span from seductive soft-tones to rafter-rattling high-tones. Her creative partner is world-class engineer/producer, songwriter, background vocalist, and dazzling lead guitarist Miguel Comas. Diaz and Comas are joined in Sweet Lizzy Project by virtuosic keyboard player and background vocalist Wilfredo Gatell; and the dynamic rhythm section of drummer Angel Luis Millet and bassist Alejandro Gonzalez.

SLP has two studio albums: Heaven (2015) and Technicolor (2020) and a Christmas EP "And So this is Christmas" (2020). To date, the band has performed in the United States, coast to coast, and has opened up shows for big acts such as Heart, Joan Jett, Johnny Swim, The Mavericks, Raul Malo, Jamey Johnson, Buckcherry, Billy Strings and Silvana Estrada.
**For the safety of our patrons, artists, venue staff, and our community as a whole, we will be recommending masks to be worn at all times while at the venue, regardless of your vaccination status unless you are actively eating or drinking.