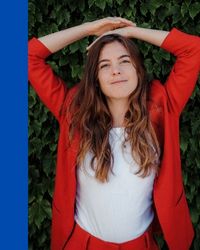 Ali McGuirk
When
Occurs on Friday October 28 2022
Approximate running time: 1 hour and 45 minutes
Venue
SHOWROOM
20 Commercial St
Keene NH 03431
Event Notes
×
TICKET PRICES:
$24 Reserved Seating ($28 day of show)
"Raw talent is hard to explain, but you often know it when you hear it. That's true of McGuirk…" Steve Morse, The Boston Globe

"Powerfully stunning vocals… the most outstanding performance of the day." Glide Magazine, Green River Fest 2021

"When she opens her mouth, people stop and take notice, captivated by her swooping, honeyed voice." The Improper Bostonian

"The critical praise has been non-stop… and her sound has evolved into a fervent blend of R&B, folk, and classic soul. But she doesn't let genre get in the way of her creative process." WGBH

Growing up just outside Boston, McGuirk doesn't remember a time when she didn't want to be a singer. But as a kid, she didn't see a path forward. To her, professional singers were pop icons like Brandy, Britney or Mariah. McGuirk got a guitar in high school but admits she basically only played the same four chords over and over again. By college, after a couple decades of absorbing '90s r&b,'70s singer-songwriters and classic soul of every era, McGuirk found her own aesthetic: earthy, pure, propelled by a voice capable of whispering dark truths or belting out big hooks on her originals. Boston responded with a wave of love. The Boston Globe named her an "artist to hear." She racked up nominations and wins at both the Boston Music Awards and New England Music Awards.
**For the safety of our patrons, artists, venue staff, and our community as a whole, we recommend masks be worn at all times while at the venue, regardless of your vaccination status unless you are actively eating or drinking.