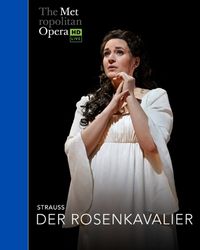 Met Live: Der Rosenkavalier
When
Occurs on Saturday April 15 2023
Approximate running time: 4 hours and 45 minutes
Venue
SHOWROOM
20 Commercial St.
Keene NH 03431
Event Notes
×
Strauss's DER ROSENKAVALIER
Simone Young (Conductor); Lise Davidsen (Marschallin), Isabel Leonard (Octavian), Erin Morley (Sophie), Katharine Goeldner (Annina), René Barbera (Italian Singer), Thomas Ebenstein (Valzacchi), Markus Brück (Faninal), Günther Groissböck (Baron Ochs)
A stellar trio assembles to take on the lead roles of Strauss's comedy, with soprano Lise Davidsen in her Met role debut as the Marschallin, opposite mezzo-soprano Isabel Leonard in her Met role debut as Octavian, and soprano Erin Morley as Sophie. Bass Günther Groissböck returns as Baron Ochs, and Markus Brück is Sophie's father, Faninal. Maestro Simone Young takes the podium to oversee Robert Carsen's fin-de-siècle staging.
Run time: 4 hours and 45 minutes (approx.)
Students $15/Met and Colonial Members $22/Adults $25
Buy to 10 distinct Met Live screenings and receive a 20% discount:
Adults - $200
Met and Colonial Members - $176
Students - $120