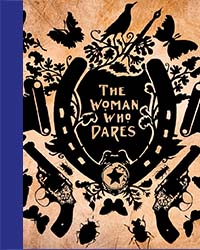 Film: Jennie B. Powers
When
Occurs on Sunday March 13 2022
Approximate running time: 1 hour and 10 minutes
Venue
SHOWROOM
20 Commercial St.
Keene NH 03431
Event Notes
×
TICKET PRICE: General Admission $5

Jennie B. Powers: The Woman Who Dares tells the story of a Progressive Era local woman who became a Humane Society agent and one of the first female deputy sheriffs in the country, with jurisdiction in New Hampshire, Massachusetts, and Vermont. Armed with both a camera and a revolver, she was said to have arrested more men than any other woman in the United States, rescued thousands of animals, and protected countless women and children from domestic violence. A co-production of the Historical Society of Cheshire County and SALT Project, this short documentary explores Powers' life and legacy, inspiring a hope born of courage in the face of suffering and injustice.

**For the safety of our artists, venue staff, and our community as a whole, we will be requiring proof of vaccination or a negative COVID-19 PCR test from within 24 hours for admittance to events at Showroom until further notice. In addition, masks are required to be worn at all times while at the venue. You may pull your mask down when eating or drinking only, regardless of your vaccination status.
Please bring a photo of your vaccination card or negative PCR test timestamped within the last 24 hours, along with a corresponding state or federal ID for entry.