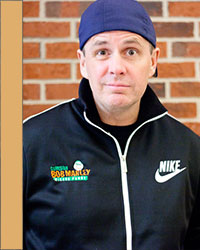 Bob Marley
When
Runs from Saturday May 14 2022 to Saturday May 14 2022
Approximate running time: 2 hours
Venue
Event Notes
×
TICKET PRICES: $37.50
Bob loves being a comedian. He's wicked good at it! He lives in Maine which is the best state in the world maybe even the universe. He's featured regularly on Sirius XM radio and he even won their Superbowl of Comedy! He has put out over 20 comedy CDs and DVDs! He was inducted into The Guinness Book of World's Records for "the longest stand-up comedy show by an individual" at 40 hrs of straight stand-up! He's been on over 100 tv shows including Leno, Letterman, Conan, Jimmy Fallon, Craig Ferguson and Comedy Central to name just a few. He co-starred in "Boondock Saints" I and II "All Saints Day" playing Detective Greenly. He has toured the U.S., Europe, Canada, Kuwait and Iraq. That's about it!


**For the safety of our patrons, artists, venue staff, and our community as a whole, we will be reccomending masks to be worn at all times while at the venue, regardless of your vaccination status unless you are actively eating or drinking.