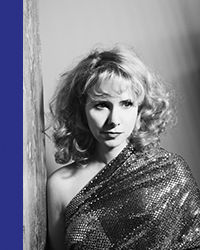 Nellie McKay
When
Occurs on Friday February 25 2022
Approximate running time: 2 hours
Venue
SHOWROOM
20 Commercial St
Keene NH 03431
Event Notes
×
TICKET PRICES:
Advanced Purchases - $26
Day of Show - $29

"Couching her stiletto wit behind a honeyed smile and beguiling melodic charm, the singer and composer Nellie McKay has been disarming listeners since the release of her wryly titled album "Get Away from Me," in 2004. Artful subterfuge is still the name of her game: McKay's skillful tunes and vocal delivery enchant while her lyrics slyly disembowel." —New Yorker

Nellie McKay has released seven acclaimed albums, won a Theatre World Award for her Broadway portrayal of Polly Peachum in The Threepenny Opera, co-created and starred in the award winning off-Broadway hit Old Hats, and has conceived and performed musical biographies of Barbara Graham, Rachel Carson, Joan Rivers, & Billy Tipton (named one of the Best Concerts of the Year by the The New York Times).

A recipient of PETA's Humanitarian Award in recognition of her dedication to animal rights, Nellie is an annoyingly vocal critic of endless war, capitalism, and the two-party system that sustains it.


**For the safety of our patrons, artists, venue staff, and our community as a whole, we will be requiring proof of vaccination or a negative COVID-19 PCR test from within 72 hours for admittance to events at The Colonial until further notice. In addition, masks are required to be worn at all times while at the venue, regardless of your vaccination status. You may pull your mask down when eating or drinking only.
Please bring a photo of your vaccination card or negative PCR test timestamped within the last 72 hours, along with a corresponding state or federal ID for entry.