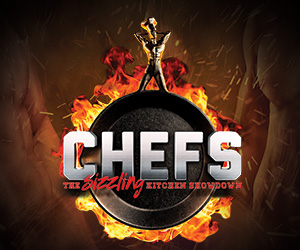 CHEFS
When
Occurs on Friday March 9 2018
Approximate running time: 2 hours
Venue
Performance Notes
×
The Colonial Theatre in association with Mills Entertainment presents CHEFS – The sizzling Kitchen Showdown!
Feast your eyes on CHEFS! These hilarious (and delicious) hunks give you a peek behind the apron as they slice, dice, and spice things up in the kitchen through a series of escalating culinary challenges where the stakes are high: if they lose a challenge, they lose their shirt. Literally. CHEFS is a fully interactive experience where you will vote for the winner and may even join the boiling hot chefs on-stage for uproarious cooking demonstrations. Outrageously bold and hysterically funny, CHEFS is "too hot for TV," making it the perfect night out!
Sit up front and get in on all the action! The chefs will interact with this section of the theatre the most and they will bring members from this section of the audience on-stage to participate in the challenges. This show is intended for mature audiences.