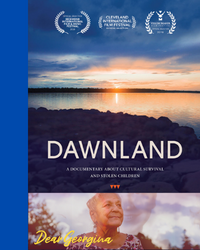 Film: Dawnland and Dear Georgina
When
Occurs on Sunday October 30 2022
Approximate running time: 1 hour and 40 minutes
Venue
SHOWROOM
20 Commercial St.
Keene NH 03431
Event Notes
×
TICKET PRICES:
A Free Event
TWO FREE FILM SCREENINGS

Followed by a conversation with Dr Mishy Lessor, Learning Director from the Upstander Project in Boston

Dawnland – 54 minutes long
For decades, child welfare authorities have been removing Native American children from their homes to "save them from being Indian." In Maine, the first official Truth and Reconciliation Commission in the United States begins a historic investigation.

Dawnland goes behind-the-scenes as this historic body grapples with difficult truths, redefines reconciliation, and charts a new course for state and tribal relations. Removal of Native children isn't just something that happened far away and long ago, but to Wabanaki communities in Maine in the late 20th century.

Dear Georgina – 15 minutes long
At age two Georgina Sappier-Richardson was removed from her home and Passamaquoddy community in Downeast Maine by child protection services. She would never see her parents again. Terror and abuse followed for over 16 years in four different foster homes.

Dear Georgina, part of our Dawnland film series, follows Georgina as she tells her harrowing story of surviving foster care. Georgina is just one of many thousands of Indigenous children with similar stories.
**For the safety of our patrons, artists, venue staff, and our community as a whole, we will be recommending masks to be worn at all times while at the venue, regardless of your vaccination status unless you are actively eating or drinking.