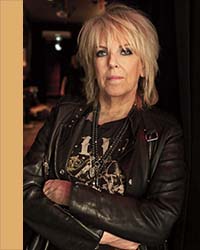 Lucinda Williams
When
Occurs on Monday July 31 2023
Approximate running time: 2 hours
Venue
Event Notes
×
TICKET PRICES:
Gold Circle - $65
Orchestra/Mezzanine/Lower Balcony - $55
Upper Balcony - $45
Lucinda Williams has traveled a long road since her 1979 debut, 'Ramblin' on My Mind', followed by long road since her 1979 debut, 'Ramblin' on My Mind', followed by 'Happy Woman Blues', her first album of originals released forty-two years ago in 1980. (She says that she's still "the same girl" except that now "I have a bigger fan base and I can afford to stay at better hotels.") Over the course of fourteen remarkable albums, three Grammy awards, and countless accolades, including Time's Songwriter of the Year of 2001, Williams is one of our most revered artists, beloved for her singular vocals and extraordinary songs. Her recent double albums, 'Down Where the Spirit Meets the Bone' (2014) and 'Ghosts of Highway 20' (2016), released on her own label, received some of the best reviews of her career.
"It's all come full circle," says Lucinda Williams about her powerful new album, 'Good Souls, Better Angels'. After more than forty years of music-making, the pioneering, Louisiana-born artist has returned to the gritty blues foundation that first inspired her as a young singer-songwriter in the late 1970s. "The devil comes into play quite a bit on this album," Williams says. "I've always loved the imagery in Robert Johnson songs and those really dark Delta blues that are sort of biblical. I was inspired by Leonard Cohen – he dealt with that in his songs – and Bob Dylan and Nick Cave." While, Good Souls, Better Angels reflects many dark realities that surround us, the album is tied together with themes of perseverance, resilience and ultimately, hope.
**For the safety of our patrons, artists, venue staff, and our community as a whole, we will be reccomending masks to be worn at all times while at the venue, regardless of your vaccination status unless you are actively eating or drinking.