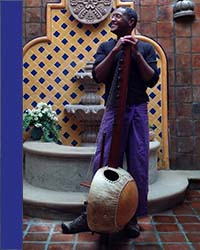 John Hughes on the African Kora
When
Occurs on Friday May 20 2022
Approximate running time: 2 hours
Venue
SHOWROOM
20 Commercial St
Keene NH 03431
Event Notes
×
TICKET PRICE: $15

Described as "The shaman of serenity" (Lindsay Cobb of the Folk and Acoustic Music Exchange), John Hughes is an internationally renowned composer, kora player, percussionist and vocalist whose style crosses myriad cultural boundaries and fuses disparate influences.

Playing ancient traditional instruments not often heard in the United States, many of which he builds himself, John takes his audience on an intimate musical tour of universal expressions of joy and hope that soothe and uplift the spirit. Whether playing elegant and stately pieces from the classical repertoire of the Jeli's (Griot's) of West Africa or original compositions, John's kora playing has an uncommon beauty that is, at once, exquisitely detailed and bold. His signature pieces are rhythmically nuanced and laced with syncopations that cascade off the strings into whirlpools of mesmerizing sound.


**For the safety of our patrons, artists, venue staff, and our community as a whole, we will be reccomending masks to be worn at all times while at the venue, regardless of your vaccination status unless you are actively eating or drinking.