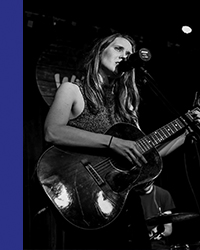 Laney Jones
When
Occurs on Saturday November 13 2021
Approximate running time: 2 hours
Venue
SHOWROOM
20 Commercial St
Keene NH 03431
Event Notes
×
TICKET PRICES:
Reserved Balcony:
Advanced Purchases - $18
Day of Show - $21

General Admission Standing Room:
Advanced Purchases - $15
Day of Show - $18

"It's not quite folk, it has hints of pop perhaps, and it rocks like no other." - No Depression

There's a sort of magic when you meet someone who's doing what they're clearly meant to be doing. You can feel an electricity in the air—an energy that can't quite be explained—but you know it when you see it. This is undeniable when you meet Laney Jones. In a few short years, since picking up the banjo, this young songwriter and bandleader went from playing rural Florida watering holes to performing on PBS alongside Alison Krauss and licensing music for the likes of Disney Pixar.

Laney Jones has received accolades from No Depression and L.A. Record, as well as the legendary Alison Krauss. As an unsigned artist, she's managed to grace the stage at New York's Lincoln Center and DC's Kennedy Center for the Arts, feature on PBS's Great Performances series, earn corporate sponsorships and licensing deals, and receive nationwide college radio spins for her original songs. Currently, her voice can be heard on soundtracks of films and TV from the likes of Disney, Netflix, Dreamworks, Google, Toyota, and Red Bull. Laney's also won many prestigious songwriting and new artist competitions, most notably the prestigious John Lennon Songwriting Contest.


**For the safety of our patrons, artists, venue staff, and our community as a whole, we will be requiring proof of vaccination or a negative COVID-19 PCR test from within 72 hours for admittance to events at Showroom until further notice. In addition, masks are required to be worn at all times while at the venue, regardless of your vaccination status. You may pull your mask down when eating or drinking only.
Please bring a photo of your vaccination card or negative PCR test timestamped within the last 72 hours, along with a corresponding state or federal ID for entry.