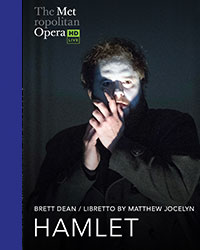 Met Live: Hamlet
When
Occurs on Saturday June 4 2022
Approximate running time: 3 hours and 34 minutes
Venue
SHOWROOM
20 Commercial St.
Keene NH 03431
Event Notes
×
TICKET PRICE - $25

ESTIMATED RUN TIME - 3 HRS 34 MINS

Brett Dean's Hamlet—Met Premiere
Libretto by Matthew Jocelyn
Live in HD: June 4, 2022, at 12:55PM ET

Nicholas Carter (Conductor); Brenda Rae (Ophelia), Sarah Connolly (Gertrude), Aryeh Nussbaum Cohen (Rosencrantz), Christopher Lowrey (Guildenstern), Allan Clayton (Hamlet), David Butt Philip (Laertes), William Burden (Polonius), Jacques Imbrailo (Horatio), Rod Gilfry (Claudius), John Tomlinson (Ghost)

Neil Armfield (Production), Ralph Myers (Set Designer), Alice Babidge (Costume Designer), Jon Clark (Lighting Designer), Denni Sayers (Movement Director)

When Australian composer Brett Dean's Hamlet had its world premiere at the Glyndebourne Festival in 2017, The Guardian declared, "New opera doesn't often get to sound this good … Shakespeare offers a gauntlet to composers that shouldn't always be picked up, but Dean's Hamlet rises to the challenge." On June 4, this riveting contemporary masterpiece appears live in cinemas, with Neil Armfield, who directed the work's premiere, bringing his acclaimed staging to the Met. Many of the original cast members have followed, including tenor Allan Clayton in the title role. Nicholas Carter makes his Met debut conducting a remarkable ensemble, which also features soprano Brenda Rae as Ophelia, mezzo-soprano Sarah Connolly as Gertrude, baritone Rod Gilfry as Claudius, and legendary bass John Tomlinson as the ghost of Hamlet's father.