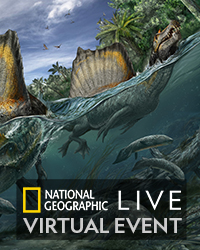 Nat Geo Live: "Reimagining Dinosaurs"
When
Occurs on Tuesday February 23 2021
Approximate running time: 1 hour
Venue
Event Notes
×
Ticket Prices:
Virtual Broadcast Event - $20.00
National Geographic Live: "Reimagining Dinosaurs" with Nizar Ibrahim & Sebastian Rozadilla
Groundbreaking new science is changing what we thought we knew about how dinosaurs looked, moved, and lived. Newfound troves from the Moroccan desert suggest that the immense predator Spinosaurus used crocodile-like jaws and a unique, paddle-like tail to actively pursue prey in the water: a first for dinosaurs. And in Chile, scientists have discovered a shocking new therapod. Unlike its cousins, Velociraptor and T. rex, Chilesaurus consumed a vegetarian diet. Join leading paleontologists and National Geographic Explorers Nizar Ibrahim and Sebastián Rozadilla for stories and conversation about the evolving science of dinosaurs.
SPEAKER BIOS
Nizar Ibrahim
Paleontologist, anatomist, and National Geographic Explorer Nizar Ibrahim has unearthed spectacular dinosaur bones, rare fossil footprints, huge prehistoric fish, ferocious crocodile-like hunters, giant flying reptiles, and the largest predatory dinosaur known. Ibrahim is an Assistant Professor of Biology and currently teaches anatomy and evolutionary biology at the University of Detroit Mercy. His work has been featured in major documentary films (National Geographic, NOVA, BBC, ZDF) and high-impact global publications, including Nature, Science, The Wall Street Journal, and The New York Times.
Sebastián Rozadilla
Born in La Plata, Argentina, from an early age Sebastián Rozadilla had a fascination with nature. He began his studies at the National University of La Plata and worked at the Bernardino Rivadavia Argentine Museum of Natural Sciences studying herbivorous dinosaurs. He is currently pursuing his doctoral thesis on bird evolution. Sebastián's main interests are investigating the evolution of the least studied groups of dinosaurs, as well as exploring and traveling the continent in search of new fossil remains. He also enjoys drawing these lost worlds and bringing these extinct creatures to life through his drawings.
The 60-minute virtual event will include short pre-recorded stories and live, moderated conversations with opportunities for audience Q&A.
To attend this virtual event please reserve your ticket by clicking the Buy Tickets button. Only one ticket per household is needed for viewing.
Audience members will receive further instructions on how to access the broadcast prior to the event in a separate email from The Colonial Theatre. Please be aware that these events will happen in real time and are not available afterwards on demand or for replay.
* The program may be viewed on a smart phone, tablet or computer. Due to the variety of livestreaming platforms and smart TV hardwares, it is not guaranteed that this program can be cast to a smart TV.