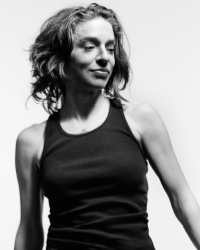 Ani DiFranco
When
Occurs on Saturday November 16 2019
Approximate running time: 2 hours
Venue
Event Notes
×
Ticket Prices:
Gold Circle - $59.00
Orchestra, Mezzanine & Lower Balcony - $49.00
Upper Balcony - $39.00
with special guest Gracie and Rachel
We once again welcome the Grammy winning feminist icon Ani DiFranco to The Colonial for an intimate solo show. While she has been known as the "Little Folksinger," her music has embraced punk, funk, hip hop, jazz, soul, electronica and even more distant sounds. Her lyrics are rhythmic and poetic, often autobiographical, and strongly political. Most recently, the 2016 single "Play God" has become a battle cry for reproductive rights. Rolling Stone said of her in 2012, "The world needs more radicals like Ani DiFranco: wry, sexy, as committed to beauty and joy as revolution."
Special guests
Gracie and Rachel
are a study in duality: light and dark, classical leanings with a pop sensibility, Californians in New York. Their music is a compelling juxtaposition of Gracie's piano and lead vocals and Rachel's violin and voice, augmented with stark percussion.