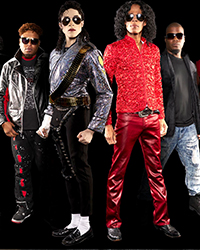 Who's Bad:
When
Occurs on Friday May 17 2019
Approximate running time: 2 hours
Venue
Performance Notes
×
Ticket Prices:
Orchestra & Mezzanine - $39.00
Lower Balcony - $35.00
Upper Balcony - $25.00
Who's Bad's live performance is an unrivaled celebration of pop music's one true King. Their power-packed performance of Michael Jackson's expansive catalog has ignited crowds on every continent and can only be described as a jaw-dropping, musical must-see.
PLEASE NOTE: Not all of the Orchestra pit will not be seated for this show. There will be dancing! Unless you are prepared to stand you are advised to buy tickets from row 7 back.